Perryton Resources & Connections

Welcome to our Help Page for Perryton, TX after the Tornado hit their town on June 15, 2023. Listed below are ways to help, either by giving items, helping organizations, or by volunteering!

Samaritan's Purse Looking For Volunteers: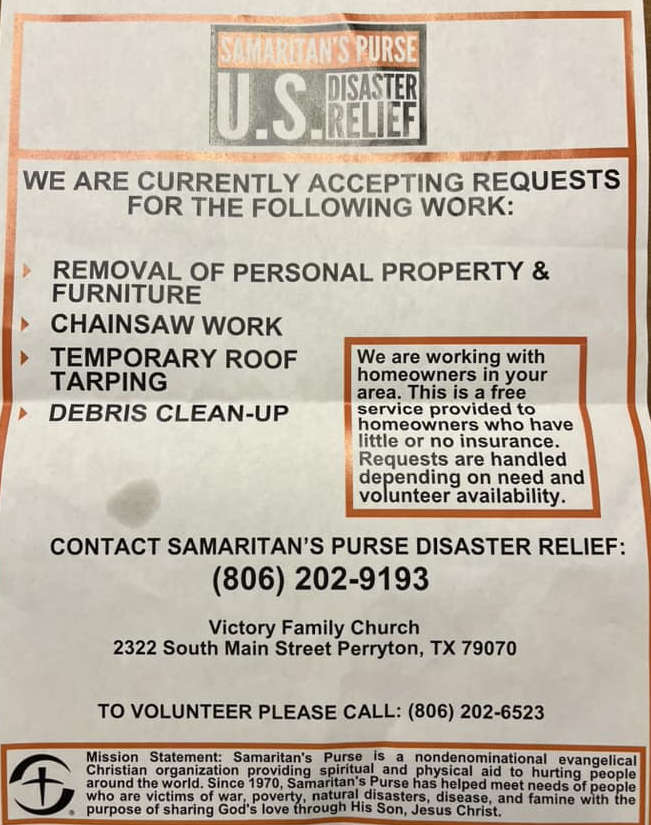 Perryton National Bank has set up a fund for Disaster Relief:
All funds will go to those in need. You can bring the deposits into the bank, call 806-435-9641 with a debit card, or mail them to Perryton Disaster Relief c/o Perryton National Bank, PO Box 969, Perryton, TX 79070.
The City of Perryton is taking another step in the tornado recovery by appointing a new Volunteer and Donations Coordinator.
If you are needing, or wishing to donate, building and/or construction materials, please contact the Donations Coordinator at (806) 730-7419.
If you are wanting to donate volunteer work, or are needing some volunteer work performed, please contact the Volunteer Coordinator at (806) 730-7418.