CLAY COUNTY DAY OF PRAYER & AND ACTS OF KINDNESS
Saturday, December 5th, 2020
Event Summary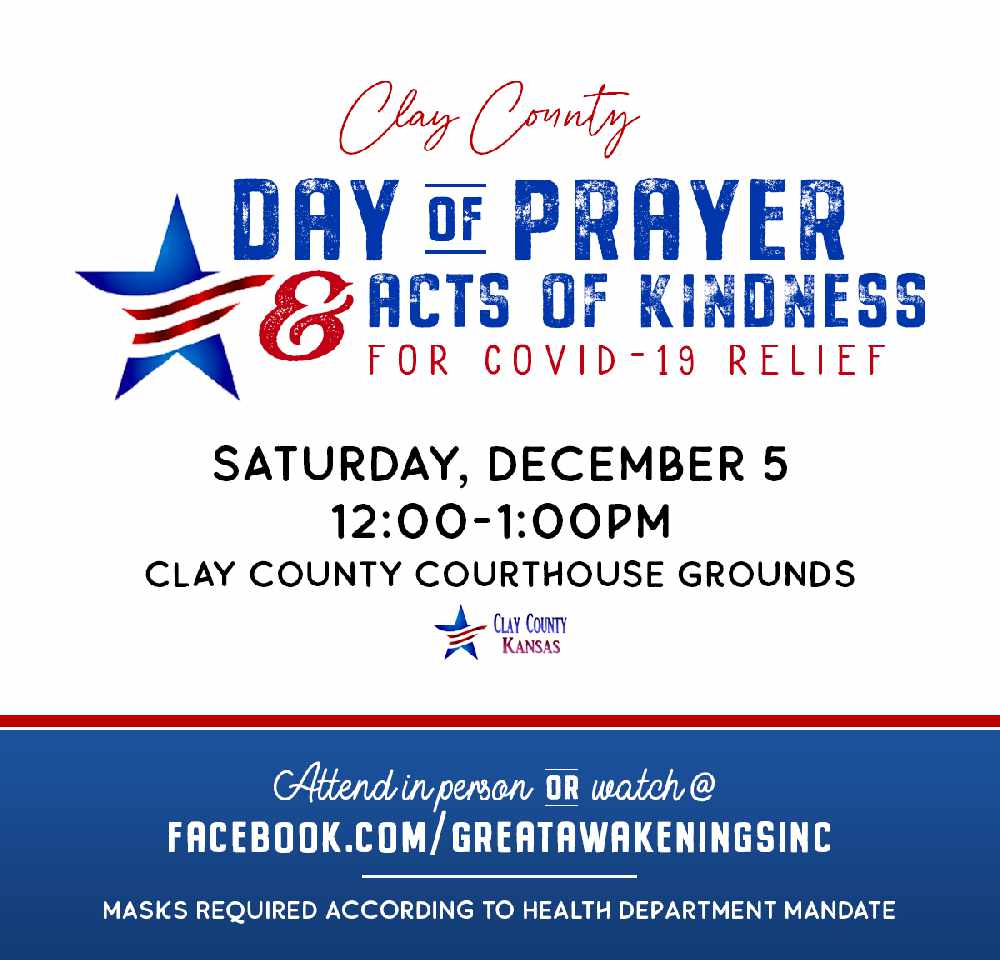 Saturday, December 5th, from 12:00-1:00 p.m., on the grounds of the Clay County Courthouse, will be the Clay County Day of Prayer & Acts of Kindness for Covid-19 Relief.
More Information (KJIL is not responsible for external websites)
Clay County Commissioners unanimously signed a proclamation declaring Saturday as a day of prayer for the crisis our county is facing with the coronavirus.
The purpose of the day of prayer is four-fold. 1) To seek God for decreased infections, hospitalizations and no more deaths from Covid. 2) To seek to be encouraged amidst all the bad news. 3) To seek to hear from God in what He is speaking to us through this worldwide crisis. 4)
To hold up before God our local hospital, doctors and other healthcare workers, facilities and their families. We also invite people to join their prayers with fasting at least one meal during the day. "O Lord, God of my salvation; I cry out day and night before. Let my prayer come before you; incline your ear to my cry!" (Ps. 88:1-2)
The purpose of the acts of kindness project is demonstrate the love of Jesus to those affected by the Covid crisis. We are doing that in three ways . . .
1. Covid Financial Relief for individuals/families in quarantine.
On December 5 we will be collecting $25/$50 gifts cards or funds to purchase them, which will go toward buying groceries and other household items. Then we will distribute those through businesses that have employees out or churches who have members out due to quarantine. Tax deductible donations for the gift cards can be given through greatawakenings.org/donate. Checks can be written to "Great Awakenings, Inc."
2. Covid Encouragement – Healthcare Workers
On December 5th we will be collecting generically written cards and notes to distribute to healthcare facilities throughout Clay County. We will also have "Supersized Cards" for each healthcare location that can be signed on the Courthouse grounds.
Additionally, we will be conducting a Covid Christmas Cookie and Treat Drive to distribute along with our cards and notes of encouragement to our frontline healthcare workers.
3. Covid Encouragement – Nursing Home and Assisted Living Residents
On December 5th we will be collecting generically written cards/notes of encouragement or arts/crafts type items like puzzles, word searches, color pages, etc for nursing homes and assisted living residents throughout Clay County.
There are four ways people can attend the day of prayer. 1) In person masked up and spread out. 2) Sitting in cars around the Courthouse square. 3) Watching on Facebook Live (facebook.com/greatawakeningsinc). 4) Listening on the phone (Call 712-770-5505 and use access code 601061. This is service of freeconferencecall.com)
The event will do everything possible to follow county guidelines regarding Covid to help people feel comfortable and safe. Outside of rain or sleet, no weather should cause any changes. Wind, cold or snow we will press on. For the latest updates go to Great Awakenings Facebook page.
Venue
Clay County Courthouse
724 5th St
Clay Center

Dates
The event runs from 12:00pm to 1:00pm on the following dates.
Select a date to add this event to your calendar app.